These days, more people are doing their shopping online. Not only is internet shopping more convenient as you don't even need to leave the house, but it is easier to find exactly what you are looking for — and at a competitive price. As well as shopping online, the internet is now also used to pay bills, transfer money and for subscriptions and gaming. For added convenience, your card details are memorised by websites or apps or stored on your device.
While this saves you from having to input your information each time you make a purchase or transfer, it does provide fraudsters with more opportunities to steal your personal details and money. The result is that millions of people fall victim to identity theft and fraud every year.
It is for this reason that more people are now choosing to pay for goods and services with virtual cards rather than physical cards. With online financial transactions, you do still need to be vigilant and ensure you've installed the necessary software, but virtual cards provide an extra layer of security.
If you are considering getting a virtual credit card, you may be wondering how safe they are. With that in mind, we've written this article to reassure you. In it, we'll take you through all the safety features of Getsby's virtual cards.
Is Getsby legit?
Getsby is a provider of virtual cards and virtual gift cards. Registered in the Netherlands, Getsby Mastercard debit cards are issued by DiPocket UAB and DiPocket Ltd., under its electronic money institution licence. DiPocket is a Financial Institution authorised and regulated by the Financial Conduct Authority and the Bank of Lithuania.
We carefully safeguard the information we hold about you, including your personal data, and are compliant with payment industry standards, including the PCI DSS.
Year Founded: 2014
Available countries: Open to customers in the EEA/EFTA/UK
Products: Virtual cards and virtual gift cards
Card services: Spend in 200+ countries worldwide. Pay online and in-store.
Is Getsby safe to use?
Here at Getsby we've added layers of security to our virtual cards in order to protect your sensitive financial information. This is via a range of safety features, including 3D Secure, biometric identification and payment tokenization. Also, the cards are not linked to your bank account, so your bank details won't be compromised in the event of a security breach. Additionally, there is no physical card for thieves to steal.
This means you can pay for online subscriptions and games and do internet shopping safely in the knowledge that your privacy will be protected and thieves won't be able to steal your personal or financial information. You can also shop in your favourite stores, pay for dinner in your favourite restaurant or spend your money wherever Mastercard is accepted, safe in the knowledge that Getsby is safe to use.
Continue reading to find out more about how Getsby protects your privacy and keeps your details safe from fraudsters.
What are Getsby cards?
Getsby's virtual cards are digital Mastercard cards that you apply for online.
Getsby offers three types of virtual prepaid cards: The Virtual Black Card, the Virtual Green Card and the Virtual Gift Card. Getsby's Virtual Black Cards are disposable digital payment cards that are designed for one-time payments. The Virtual Green Card allows you to load money onto it as and when you need it, which can help with budgeting and overspending. Getsby's Corporate Virtual Gift Cards are international gift cards that can be used worldwide, making them the ideal gift for business owners to give to customers or reward employees with.
Instead of a physical plastic card, you will be given online access to a 16-digit card number, expiry date and three-digit CVV number in order to make purchases. This means you can use a virtual card anywhere you see the Mastercard Acceptance Mark. You can make purchases in physical locations — including contactless payments — receive cash-back when making purchases in physical stores, withdraw money from ATMs that have a contactless symbol, and make online and telephone purchases. You can also add the card to your Apple or Google mobile wallet. It is worth noting, though, that the card cannot be used for other cash transactions, such as withdrawing cash from a bank or purchasing traveller's cheques or foreign currency from a bureau de change.
Virtual cards have many advantages, but one of the greatest is the level of security that they provide. Your bank details will never be revealed using Getsby's virtual cards because they are not connected to your bank account. And even the money that's been loaded onto the card has layers of protection against cyber thieves.
To enhance security, your card will be automatically registered for Mastercard Identity Check. This means that when you use your card for online purchases, you may be required to enter a code that will be sent to your mobile phone number, or you will need to authorise a transaction via the app.
If your card details have been compromised, a thief won't be able to spend more than what's been loaded onto the card as there's no overdraft or credit limit, and you are able to freeze the card in just a couple of clicks.
What are the safety features of a Getsby virtual card?
Getsby is committed to protecting your personal and financial details. Before we reveal the safety features of a Getsby card, we want to assure you that we will never contact you to request any of your personalised security features — nor will we ask anyone else to do so on our behalf. A request like this is likely to be fraudulent, and under no circumstances should you provide any of your personal security information. We advise you to treat emails from senders claiming to be Getsby with caution — especially if they are asking you to reveal any personalised security features — and we request that you report any activity like this to us immediately.
The following safety features give peace of mind when using your card online and via your mobile wallet while you're out and about:
1. PCI DSS compliant
As a company that provides digital payment cards and stores and processes sensitive information, we take security very seriously. We are PCI DSS compliant (Payment Card Industry Digital Security Standard), which means that we follow a set of industry security standards to secure card transactions against theft and data breaches. The measures that we follow include:
Installation and use of firewalls
Encrypting data
Use of anti-virus software
Monitoring and testing networks
Maintaining an information security policy
Getsby Mastercard debit cards are issued by DiPocket UAB and DiPocket Ltd, who are PCI Level 1. As a merchant that processes more than 6 million transactions per year, DiPocket is held to the highest compliance level standards when it comes to safeguarding customer data.
2. 3D Secure
Also known as 3DS, 3D Secure provides an additional authentication step when making payments. It was introduced by Visa with the "Verified by Visa" payment process, and thanks to its success at minimising payment fraud, it has since been implemented by almost every financial service company for online card transactions. This includes Mastercard's SecureCode, which is used by Getsby. While every 3D Secure protocol differs slightly, they all utilise the same technology.
How does 3D Secure work?
To make an online payment in the past, you only had to enter your name, card number, card expiry day and CVV number, but with 3D Secure, you also have to do one or more of the following:
Enter your password
Answer a question you previously provided the answer to
Confirm a one-time code which is sent to you via text message or email
If you enter the correct information, you will be redirected back to the merchant's website, where a "Transaction successful" screen will appear after a couple of seconds.
3. Biometric identification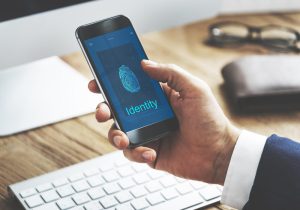 Another way to confirm your identity when making online purchases or other payments using your mobile wallet is biometric identification.
This is where your identity is confirmed by capturing your biometric data. This is done by either taking a photograph of your face, capturing an image of your fingerprint or recording your voice.
4. Payment tokenization
Tokenization is where a piece of data — known as a "token" — is given in place of your actual card details. An algorithmic code translates your card details into a series of letters and numbers to prevent fraudsters from being able to access your information. Even if the website where you input your details were to become a victim of a security breach, the information the scammers managed to intercept would be meaningless to them as they wouldn't be able to interpret it.
The tokenization security measure is used in many online transactions in order to safeguard the sensitive financial data of both buyers and sellers.
5. Not linked to your bank account
A Getsby virtual card isn't linked to your bank account, so there is no way for cyber thieves to steal your account information. You simply transfer a small amount of cash at a time.
Considering the measures outlined above, with a Getsby card, it is unlikely that you will fall victim to cyber fraud, but even if your details are compromised, the thief won't be able to take any more than what you've loaded onto it, and in any case, the card can be frozen immediately.
6. No physical card to steal
Because there is no physical card to steal, there's no risk of it being lost or stolen. This means there won't be any opportunity for thieves to clone it and use it to make purchases.
How does Getsby use customer information?
Getsby respects the privacy of all its customers and ensures that the personal information provided to us is treated confidentially.
When you sign up for one of our cards, we will ask you for some personal information in order to provide you with our service. This data is stored on secure servers and will not be combined with any other personal information that we have.
Where can I use a Getsby card?
Now you have the reassurance that Getsby prepaid cards are safe to use, you may be wondering where you can use them.
You can use your Getsby virtual prepaid card for online purchases anywhere you see the Mastercard symbol. Or you can add it to Apple Pay or Google Pay for in-store purchases.
Some of the ways you might want to use your Getsby card include the following:
Subscriptions — Subscribe to services like Netflix, Twitch, OnlyFans and F1 TV to have greater control over your recurring spend
Gaming — Make one-time game purchases online
Paying bills — Pay your bills knowing that your provider can't take more than what's been loaded onto the card (which they may try to do if there are hidden fees)
Online shopping — Use your Getsby card on websites that carry the Mastercard symbol
Gifting — Load money onto a Getsby prepaid card and give it as a gift card
Budgeting for children or teens — Manage your child's spending and teach them about budgeting
Summary
More people are now choosing to pay for goods and services with virtual cards rather than physical cards. You do still need to be vigilant and ensure you've installed the necessary software when making online payments, but virtual cards provide an extra layer of security.
Getsby prepaid virtual cards are much safer to use than regular credit or debit cards. This is because of the following safety features:
3D Secure —  Getsby uses the Mastercard SecureCode as an additional authentication step when making payments
Biometric identification — When making purchases using your Getsby card, you will be required to confirm your identity via biometric identification
Payment tokenization — An algorithmic code translates your card details into a series of letters and numbers to prevent fraudsters from being able to access your information
Not linked to your bank account — This means your bank details won't be compromised in the event of a security breach
No physical card — So there's no risk of it being lost or stolen
Wellicht vind je deze blogs ook interessant: