Virtual Mastercard for OnlyFans fans
Get access to your favorite OnlyFans accounts using the Virtual Debit Card from Getsby. The Getsby is a disposable Mastercard card that allows you to pay for views without sharing your personal debit- or credit card information on OnlyFans.
Using our non-reloadable debit cards is more secure, because you're using a unique 16-digit number each time. You cannot currently use PayPal for OnlyFans, therefore these prepaid cards are a perfect way to protect your privacy if you don't want to use your credit card!
Disposable Virtual Debit Card
Simply control how much money a virtual card is available by choosing a value between € 5 – € 500 for the card. Luckily it is not possible for merchants to overcharge the account, so you're protected.
Just to be safe, please note that you can suspend a card at any given moment. This gives you complete control in case something happens. Therefore, it makes them safe to use and pay for OnlyFans.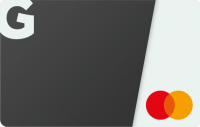 What is OnlyFans?
The rise of OnlyFans has been enormous since it was founded in 2016 by Timothy Stokeley in London. Today it is estimated that there are over 450.000 content creators on OnlyFans active on the platform to generate income.
OnlyFans is a home for many celebrities, fitness trainers, writers, singers, chefs, and more. They provide content for more than 30 million registered users, who are willing to subscribe to their favorite content creators for videos or images.
How to keep your personal information safe on OnlyFans?
You've probably heard of the data breach where OnlyFans content was obtained and shared on the internet. It is good to know that OnlyFans.com uses CCBILL (a third-party payment provider) to process payments. This means that payment card information should always be safe to use as OnlyFans does not store these details directly on the site.
Then there is the question: "does OnlyFans show on bank statement?" The quick is answer is Yes! However, if you wish to use OnlyFans more anonymously, you are likely to prefer the transactions not to be visible on your overview. Not everybody will be happy to see the monthly subscriptions payment pop-up as "OnlyFans" or "OF" on their credit card or bank statement.
What payment methods are accepted on OnlyFans?
After creating an OnlyFans account, users can get access to content creators. To view their content, you will be asked to purchase a subscription. Under the "More" tab in your account, you can add any of the following payment methods that you can use:
Visa/Mastercard
Discover
Maestro/ Debit cards
Some Prepaid cards
It's very important that the card is enrolled into 3D secure to verify transactions. Generally speaking, open-loop gift cards from Mastercard or Visa do not have this feature. That is the main reason why they can't be used as a payment method for subscriptions.
How to subscribe to OnlyFans with PayPal?
To use PayPal as a payment method is very populair with consumers. Therefore many will want to know, can you use PayPal for OnlyFans? The answer is that you can't use it to pay content creators on OnlyFans. Basically, there are two reasons for PayPal not being accepted on OnlyFans.
The first reason comes down to PayPal's terms & conditions. These state that PayPal prohibits users from buying NSFW oriented digital goods, including downloadable pictures or videos and website subscriptions, or other content delivered through a digital medium.
The second reason would be that PayPal does not provide proper seller protection for digital goods. Thus, it would mean that OnlyFans has a much higher risk of chargebacks from users if they would add PayPal to their payment platform.
It doesn't seem that PayPal will be added as one of the payment methods anytime soon. This means you won't be able to use Paypal for OnlyFans. Curious to know what alternative payment methods you can use besides PayPal? Please continue ready below.
Will OnlyFans accept my Paysafecard?
Unfortunately not. You are also no longer able to subscribe to OnlyFans using a Paysafecard. Paysafecard was temporarily available as an "Alternative Payment Method", but you can't use it anymore. For people who prefer to subscribe more anonymously on OnlyFans, this was a great alternative payment method.
Continue this article below to learn how easy it is to order and use a Virtual Card to access your favorite content creators.
How to pay for OnlyFans without a credit card?
As you have read, PayPal, Paysafecard and gift cards are not accepted on OnlyFans. If you can't use your credit card or don't want to use it for obvious reasons, a virtual prepaid card is the best solution to pay. Using a prepaid card also prevents "OnlyFans" or "OF" from being visible on your bank statement.
How to use your Virtual Card?
You will receive an access code for your disposable card by email within 2 minutes after your payment has been received. After activation, use your 16-digit Mastercard number to purchase anonymously online and be sure your credit card number and privacy are secure.
After activating your virtual card, you can setup the card in your account. The virtual card can be used for wallet top-ups using 3D Secure. After linking the card to your OnlyFans account, you can purchase subscriptions, unique content like images or videos and for tips.
It does sometimes happen that transactions with your virtual card are declined on OnlyFans. There are a few common reasons for a card decline:
Insufficient funds in the account
The billing address does not match the card information or address on file
You're entering incorrect card information
You will be able to retry up to three times before your card is blocked. After that, please delete your card and try to re-enter your card information. If this does not work, we suggest trying a different card.
Please keep in mind when purchasing online outside the Eurozone, a FX fee is charged. Calculate the correct value for your one time use card (link) based on the current Mastercard exchange rates for USD and GBP, including 2.00% FX costs. If you want to setup your prepaid card with your PayPal account, follow these instructions.
Summary
In this article, it's mentioned that there is a limited range of payment methods available at OnlyFans. Many would want to know, can you use PayPal for OnlyFans? At this time it is not possible to pay through PayPal.
In some countries there is a possibility to select alternative payment methods if you don't want to use your Visa or Mastercard.
If you're looking for a discrete way to purchase subscriptions, disposable Black Card from Getsby are ideal. You can pay through a virtual card at OnlyFans without having to worry that transactions are visible in your history.