Whether it is for a luxurious holiday, a business trip, family reasons, or any other purpose, the chances are you will stay in a hotel at least a few times in your life. When you come to book your next hotel stay, you will find some establishments still insist you pay for their services with a credit card.
With the arrival of online travel agents and third-party booking websites, it has become easier than ever to book hotel accommodations without needing a credit card, but some outliers remain stubborn. There is no need to panic however, with so many different accommodation options available, you should have no problem finding somewhere that accepts alternative payment methods.
So what alternatives to credit cards are there for making hotel bookings? Are some options better than others? And why do some hotels still insist on credit card payments?
We are going to answer all this and more as we explore how to book a hotel without a credit card.
Can you book a hotel without a credit card?
Yes, many hotels allow you to book a room without a credit card. However, some do not — especially big international chains. If you are booking without a credit card, you can use a debit card, pay cash, make a PayPal transaction, or use a prepaid card to make your reservation.
There are many reasons you may not want to book a hotel with a credit card. One common reason is the simple fact that not everyone has one. Some people are worried about the security of using credit cards, or they don't want to risk going over their travel budget. Some people prefer to avoid credit and debit cards altogether and deal in cash.
Let's jump in and find out why hotels prefer credit card payments and what the alternative options are.
Why do hotels prefer credit card payments?
While most hotels accept alternatives, a credit card payment is often the preferred method, especially among large international chains. The reasons for this preference include:
Credit cards can be charged additional payments once the hotel has put a hold on your card. For example, if there is any damage caused to the room or items are missing, the hotel can charge the credit card owner even after they have left. There may also be additional charges for things such as mini-bar use or video rental that are not checked until the guest has departed.
Credit cards confirm the reservation. Similar to the previous reason, using a credit card means the guest can be charged a cancellation fee or billed for the night even if they don't show up.
Credit cards indicate a good credit rating. To get a credit card from your bank, you must have a good enough credit score to be eligible. So having a credit card indicates reliability and shows expensive establishments that you can be trusted.
If you don't pay with a credit card, you may have to put down a cash deposit or debit card on hold for the course of your stay.
How many credit cards are in circulation in the UK?
As of October 2021, there are now around 59.6 million credit cards issued to UK residents. The number of credit cards in circulation dropped in the UK during the coronavirus pandemic.
In February 2020, one month before the first lockdown, there were around 66 million credit cards in the UK.
This does not mean that 59.6 million UK residents have credit cards. Many people have multiple credit cards, while others have none. As of 2021, around 62% of UK adults owned a credit card.
Some people are ineligible to get a credit card as they may have a poor credit history, and banks are unlikely to trust them with their monthly credit card payments.
There are far fewer credit cards in use in the UK than debit cards. There are currently around 97 million debit cards in circulation, which averages around 1.3 per person.
What are the disadvantages of booking a hotel with a credit card?
Booking a hotel room with a credit card comes naturally to many people, but it does have its disadvantages.
Guests and travellers may not want to pay with a credit card due to the potential interest accrued on the credit card at the end of the month. Credit cards offer users a limited loan that must be paid back in full, or it will accrue interest. You may not want to pay the additional charges on top of an already hefty hotel bill.
We saw earlier that hotels often want guests to pay with a credit card so they can be charged additional payments for things such as damage after they have checked out. However, you may dispute the additional charges with the hotel. Paying with a credit card would then make the negotiations trickier, as the hotel can charge your credit card once you have authorised them to put a hold on it. So you would then have to bring your dispute with the hotel to your credit card provider.
Furthermore, you may also have security concerns about using your credit card to pay for a hotel. Because the hotel will hold your details for the duration of your stay, you don't know how many hotel employees will have access to your information. While you are unlikely to have your details stolen or used for fraudulent purposes, it is not an impossibility and could result in you losing a significant amount of money.
Insisting on a credit card booking can be a disadvantage for hotels as well. As we've seen, many people simply don't have one. Approximately 62% of UK adults own a credit card, which means that around 38% don't. So if a hotel insists on only accepting credit card payments, they have instantly excluded a significant portion of the population.
What are the alternatives for booking a hotel without a credit card?
If you don't have a credit card or have one but don't want to use it, there are several alternatives that many hotels will also accept.
These include:
Debit card payment.
Cash payment.
PayPal transfer.
Prepaid card payment.
However, as we will see, not all hotels accept these alternatives, and there are pros and cons to using each one. For example, not everywhere will accept PayPal payments, and cash can be risky to carry around with you, especially if you are in an area where tourists are vulnerable to theft.
So, let's take a closer look at some of the advantages and disadvantages of these alternative hotel booking methods.
Advantages
Disadvantages
Debit card

Accepted by most establishments
Easy to make payments quickly

Limited fraud protection
Charges fees for using the card abroad
Currency conversion charges apply

Cash

Universally accepted
Easy to keep track of how much you have spent

Cannot be used for prepayments and can only be used in-person
Not secure and can easily be stolen
Currency conversion charges apply

Paypal

Strong security and fraud protection
No fees to convert currency
No charges for paying abroad

Not universally accepted
Transaction fees charged

Prepaid card (Getsby)

Strong security and fraud protection
No transaction fee
No charges for paying abroad
Can be used anywhere that accepts Mastercard payments
Can be added to your Google or Apple Pay account

Some fees charged, e.g FX fees
How does a prepaid card work?
A prepaid card can be used to make online transactions or in-store purchases.
A Getsby prepaid virtual card can be used at any online merchant that accepts Mastercard payments. It can also be used for in-store payments by adding it to your Apple Pay or Google Pay account in the same way a plastic debit or credit card can.
For in-store purchases, you simply transfer money from your bank account onto the prepaid card and then add the card to Google Pay or Apple Pay. Then tap and pay using your phone to make payments just as you would with any other card in your Apple Pay or Google Pay wallet.
For online purchases, you also transfer money onto the prepaid card, and when you reach the checkout stage of an online transaction, you should select the Mastercard option and fill in the relevant details of the prepaid card.
What are the benefits of using a prepaid card to book a hotel?
Prepaid cards, such as Getsby's virtual cards, have multiple benefits that make them an ideal alternative payment method for hotel bookings that normally require a credit or debit card.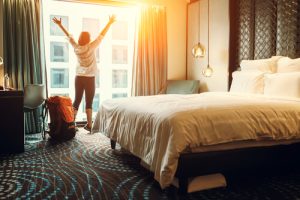 As we have just seen, Getsby cards are accepted for all online transactions that take Mastercard payments. This means that hotels worldwide accepting Mastercard payments can be booked in advance using a prepaid card. You can also add it to an existing Google Pay or Apple Pay account, which allows you to pay for extra charges in person once you are at the hotel. While exploring the local area, you can use the card to pay for meals out at restaurants and even trips to local theme parks.
A Getsby prepaid card is virtual and accessed online, which means it cannot be physically stolen or misplaced, unlike plastic bank cards. Moreover, our cards offer 3D security protection and use a payment token system that protects your bank account details.
Getsby cards do charge small fees for use, but the Virtual Black Card has no monthly fee, and neither the Virtual Black nor Virtual Green Card charges a transaction fee.
To top it all off, a Getsby prepaid card is an eco-friendly alternative to physical credit and debit cards as no plastic is used to produce them. Also, because they are virtual, there is no need to wait for postage, and you will have access to your card just a few minutes after you sign up for one.
Summary
While some hotels still demand bookings are made and paid for with a credit card, many hotels accept alternative forms of payment.
Prepaid cards are one of the best alternative payment methods for making hotel reservations. They are quick and simple to use, highly secure and do not charge monthly or transaction fees. So, next time you need to make a hotel booking, sign up for a Getsby prepaid card to save you time and money and make your trip as smooth and as easy as possible.
Wellicht vind je deze blogs ook interessant: