Visa vs Mastercard: What's the difference?
Regardless of whether you're looking for a new credit card or you're buying corporate gift cards, there are a lot of factors to consider when choosing a payment card. But one that is often overlooked is the payment processing network that the card operates on.
Choosing the right network is crucial. The reason is that a card's network has implications for where and how it can be used. It also affects the benefits that you may be offered as a customer — think cashback, interest rates, and exclusive travel offers!
So what exactly are payment networks? They are companies that provide branded payment processing services responsible for managing and facilitating payments. Simply put, payment networks organise safe and secure payments between merchants and banks on behalf of cardholders. And the chances are you'll have already encountered them when dealing with everyday banking and finances, possibly without even realising.
In this article, we're going to focus on the two largest payment networks globally: Visa and Mastercard. We'll take a look at what they offer, how their cards work, and the main differences between the two networks. So when it comes to choosing the right card for you, you know what to look for. So, let's get stuck in!
What is the main difference between Visa and Mastercard?
Some may argue that the only real difference between Visa and Mastercard is the logo on the card. While it's true that both companies have a lot of similarities, there are some key differences in what they have to offer and how they operate. The main one is the benefits they offer to customers.
However, neither company actually issues cards. For this reason, the card issuer you choose will have more of an impact on the rewards, benefits, and terms of usage that apply to your card. That said, it's still helpful to know the differences between Visa and Mastercard so you can choose the right card for your needs. To help, we're going to run through all you need to know about Visa cards and Mastercard cards and the differences between the two payment networks.
What is a Visa card?
A Visa card is a payment card that uses the Visa payment processing network to complete transactions. They can be easily identified by the Visa logo that is printed on them.
While Visa is a payment network that processes payments between banks and merchants, they don't actually distribute or issue payment cards. Instead, Visa cards are issued through co-branded relationships with banks, financial institutions, and some high street shops. Depending on the issuer, there are several types of Visa cards available.
Types of Visa cards
There are three types of cards that operate using the Visa payment processing network: Visa Debit cards, Visa Credit cards, and Visa prepaid and gift cards.
Visa Debit cards
Debit cards are a convenient alternative to paying for purchases with cash. They are connected to your bank account, so when you make a purchase or take out cash at an ATM, money is deducted from your own funds. You can use a Visa Debit card to manage your everyday banking, from paying bills to purchasing goods and services from retailers.
Visa offers several levels of debit cards:
Visa Classic
Visa Gold
Visa Platinum
Visa Signature
Visa Infinite
The higher the level of Visa card, the more benefits customers will be offered — working from the Visa Classic to the Visa Infinite.
Visa Credit cards
Visa Credit cards are similar to Visa Debit cards in that they allow you to do things like pay bills, make purchases, and take out cash from ATMs. However, unlike debit cards, credit cards use a credit line to pay for transactions carried out. This means that when you make transactions, you are borrowing money from the bank on the promise that you'll pay it back. For this reason, banks will only issue credit cards to individuals who have a strong credit score and are, therefore, deemed trustworthy enough to borrow money on credit.
Visa offers the same types of credit cards as debit cards, from the Visa Classic credit card to the Visa Infinite credit card. That said, credit cards tend to come with better rewards and benefits for customers than standard debit cards.
Visa prepaid and gift cards
Visa prepaid cards are reloadable payment cards that you can use for online and in-store purchases anywhere that accepts Visa payments. They are not connected to your bank account and don't require credit checks. This makes them a great option for those who have a poor credit history. It also means you don't need a bank account to have one.
Visa also offer gift cards which are a type of non-reloadable prepaid card. When issued, they are topped up and can then be spent at retailers that accept Visa card payments. However, some gift cards are limited to specific retailers. You can only spend what is available on a prepaid card, making it impossible to end up with negative credit.
How do Visa cards work?
When a purchase is made with a Visa card, the Visa payment system connects the cardholder's bank with the merchant's bank and then electronically transfers the information and money needed to complete the transaction.
Each Visa card has a unique 16-digit card number connected to it that is used to make payments. To make a payment online with a Visa card, you'd enter the 16-digit card number, the expiration date and the CVV code. If you're shopping in-store, you can use chip-and-PIN or contactless — provided the card you have allows it.
Where can you use a Visa card?
You can use a Visa card to shop online and in-store with any merchant that accepts Visa as a payment method. Visa is the largest payment network worldwide in terms of transactions, cards in circulation, and purchase volume. It operates in more than 200 countries and territories worldwide and is accepted at more than 80 million merchant locations.
What is a Mastercard?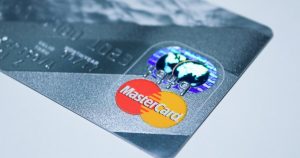 A Mastercard is an electronic payment card issued by banks, financial institutions and retailers that have a branded partnership with Mastercard. They use the Mastercard payment network to process payments and are identifiable by the Mastercard logo.
Much like Visa, Mastercard offers different types of cards that are issued by partner companies.
Types of Mastercards
Like Visa, there are three types of Mastercard cards: Mastercard debit cards, Mastercard credit cards, and Mastercard prepaid cards.
Mastercard debit cards
Mastercard offers two debit cards:
Standard Debit Mastercard
World Debit Mastercard
These work in the same way as any other standard debit card, where payments are directly deducted from the money in your current account. You can choose the Standard Debit Mastercard, which comes with the basics for everyday banking. Or, there's the World Debit Mastercard which offers a higher level of security and more premium benefits and rewards.
Mastercard credit cards
There are three tiers of Mastercard credit cards:
Standard Mastercard
World Mastercard
World Elite Mastercard
As we've previously mentioned, credit cards use a credit line for transactions. With a Mastercard credit card, you can make transactions as you would with a regular debit card, but you must repay the card issuer for transactions made on your credit card.
If you have a high credit score and a strong credit history, you may be offered a higher credit card which will usually come with premium benefits.
Mastercard prepaid cards
Mastercard offers three prepaid cards:
Prepaid Gift
Everyday Prepaid
Travel Prepaid
Depending on the card issuer and the type of prepaid card, these can be topped up and reused. However, regardless of whether your prepaid Mastercard card is reloadable or disposable, you do not need to connect it to a bank account. This means that once the funds on the card have been spent, no further transactions can be made.
How do Mastercards work?
Like Visa, Mastercard is a payment network that provides branded technology and services that facilitates payments made using Mastercards. When a transaction is made, Mastercard authenticates the payment and passes the necessary information between the acquirer and the issuer — in simpler terms, the merchant and the customer's card issuer. Once the payment authorisation request has been submitted by Mastercard and accepted by the issuer, the funds are transferred to the merchant, and the transaction is completed.
As for the actual cards, most Mastercards can be used in the same way as standard debit cards in that you can make contactless payments, use chip-and-PIN, or enter card details for online payments. However, this may be different depending on the type of Mastercard and the issuer.
Where can you use a Mastercard?
Mastercard is the second-largest payment network processor, behind Visa. Mastercards are accepted by 36 million merchants worldwide across more than 210 countries and territories. You can use a Mastercard online and in-store to purchase goods and services.
Visa vs Mastercard: The key differences
As you'll have gathered from the previous sections, Mastercard and Visa have a lot of similarities. But they're not identical. Let's take a look at the main differences between the two networks.
Benefits
For customers, the biggest difference between Visa and Mastercard are the benefits and rewards on offer. Both companies offer three tiers of benefits, with higher levels offering additional perks to customers.
The basic perks that both companies offer include emergency card replacement, extended purchase warranties, and car rental collision cover. In addition to these, Visa offers unauthorised purchase cover, and Mastercard offers fraud liability protection.
The mid-tier benefits have more differences between networks. Visa's Signature package includes the following:
An online portal offering discounts
Concierge service
Offers on entertainment, travel, and sporting events
Mastercard's World package includes:
Price protection
Personal travel advisor
Hotel perks
Finally, the high-tier benefits are even more different. The Visa Infinite package has basic and mid-tier perks as well as premium ones, such as insurance for travel accidents and lost luggage. Mastercard's World Elite package offers customers benefits such as access to airport lounges, reduced airfares and holidays, and discounts on rental cars.
But, it's worth remembering that the benefits on offer with a Mastercard or Visa card aren't determined by the payment network itself, but rather by the issuing bank. Therefore, it's worth checking what's on offer with specific banks to get the best benefits for you personally.
Protection Schemes
Mastercard and Visa have their own security systems that protect payments from fraudulent transactions. These are as follows:
Mastercard: All Mastercard purchases are protected by Mastercard's security system, SecureCode. The system uses 3D Secure to provide an extra level of security when carrying out transactions.
Visa: similarly, Visa has its own security system called Verified by Visa, which uses the same technology but has slightly different protocols.
Fees and exchange rates
Each Mastercard and Visa card will be subject to different fees and exchange rates. These do also differ slightly between networks. However, the card issuer has more control over these factors. Most banks, financial institutions, and retailers have the power to decide the terms of conditions that apply to the card. For example, a retailer may issue a prepaid gift card that can only be spent online or in-store with their company.
Visa vs Mastercard: Which card is right for me?
Visa and Mastercard are very similar to one another. Both payment networks offer credit, debit, and prepaid cards, giving you plenty of options to choose from. Furthermore, Visa and Mastercard are the two largest payment networks globally. Both are accepted by millions of merchants across over 200 countries and territories. This means that you're unlikely to encounter merchants that accept one network and not the other, making either network a fine choice.
As we've mentioned, the only significant differences for customers are the benefits on offer, security schemes, fees, and exchange rates. But, these factors are mostly controlled by the bank issuing your card, so it's more important to focus on the type of card and the bank issuing it. When doing so, compare the advantages to find one that works the best for your specific needs and offers the rewards that you deem the most valuable — such as cashback or exclusive travel offers.
What other cards are available?
Aside from Visa and Mastercard, there are two other main payment networks: American Express and Discover. Unlike Visa and Mastercard, these two companies issue and distribute cards directly.
American Express (also known as AMEX) is accepted by 25.3 million merchants worldwide in over 130 countries. The company is best known for its credit cards which usually have the best benefits in comparison to other companies. However, American Express has very strict eligibility requirements for cards. Also, due to high fees for merchants, AMEX cards are not as widely accepted by retailers.
Discover is accepted by 44 million merchants across 190 countries and territories, making it the third-most accepted network worldwide. However, in comparison to the other three, Discover offers customers fewer benefits.
Summary
It's a common misconception that Visa and Mastercard cards are distributed and issued by the companies themselves. Instead, Visa and Mastercard facilitate payments between merchants and banks. The actual cards are issued by banks, financial institutions, and retailers that the networks have formed branded partnerships with.
Take our Getsby virtual cards as an example. We issue different virtual Mastercards, including:
Each of these is a prepaid card issued by us, but they're powered by Mastercard. This means that they work like a standard debit card and can be used with any retailer that accepts Mastercard. The only difference is that they're not connected to a current account — perfect if you can't open a bank account or want some extra security. When you make a transaction, it is authorised by Mastercard and is protected by its 3D Secure system, SecureCode.
In terms of customer usage, both Visa and Mastercard are very similar. However, when choosing a card, it's less about comparing the two networks and more about deciding what works best for you. Instead of deciding between Visa and Mastercard, it's more important to look at what's on offer from the issuer and choose the card with the best benefits.
Wellicht vind je deze blogs ook interessant: