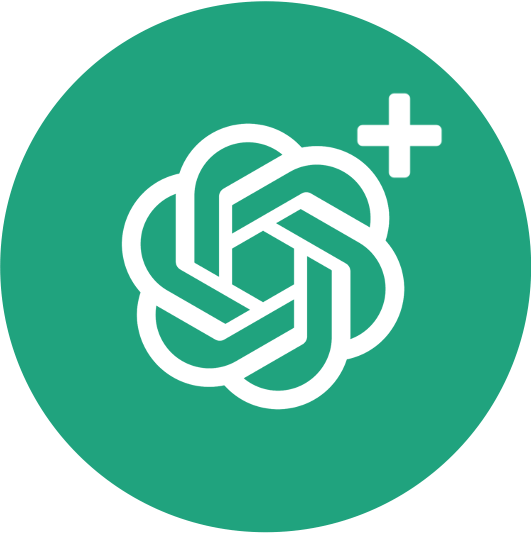 How to subscribe or upgrade to ChatGPT Plus
When ChatGPT was released in November 2022, it got the whole world talking. The system is free to use and has changed the way that many people produce written content. ChatGPT can be used to improve communication by simplifying text and offering alternative vocabulary.
By February 2023, OpenAI had released a paid version of the service. ChatGPT Plus is available to users for $20 a month and allows access to beta versions of the chatbot. While the free version is still available, many people have decided to upgrade their accounts.
In this article, we'll look at what features come with ChatGPT Plus and how they can benefit you. We'll also examine how you can pay for the monthly subscription fee.
Jump to:
▸ Why subscribe to ChatGPT Plus?
▸ How to subscribe to ChatGPT Plus?
What is ChatGPT Plus?
ChatGPT Plus is a subscription plan for ChatGPT. The advanced system provides general access to ChatGPT, even during peak times. ChatGPT Plus also gives faster response times and unlimited usage. Users of this premium service are given priority access to new features and updates too.
ChatGPT is a language-model chatbot powered by AI. It was developed by OpenAI and launched in November 2022. The system allows you to have a humanlike conversation: you can ask it questions, and ChatGPT will quickly respond with relevant answers. You can also ask the chatbot to create written content, such as articles, emails, and social media posts.
GPT stands for 'Generative Pre-trained Transformer'. The system uses deep learning to improve its humanlike answers. ChatGPT was trained by people with online text. They conversed with the system and ranked the responses to help the system learn which answers were best. Users can help the system continually improve by rating each response with an upvote or a downvote. They can also provide written feedback to help the system improve its future dialogue.
GPT-4
The latest language model for the ChatGPT AI chatbot is GPT-4. It's OpenAI's most advanced system but is only available to users who subscribe to ChatGPT Plus. The system accepts images and text as prompts, whereas the free version only accepts text prompts.
GPT-4 can generate captions and analyse images. For example, you could ask the system to describe the image for a social media caption. You could also submit a photo of some ingredients and ask the system to give recipe suggestions.
You can submit up to 25,000 words for GPT-4 to analyse and respond to. The system can use the information to compose longer articles and provide more detailed answers. GPT-4 can also learn a user's writing style and use it to compose songs, screenplays, and other creative works in their style.
Why subscribe to ChatGPT Plus?
ChatGPT Plus has many benefits, as listed below.
Access to GPT-4
GPT-4 is far superior to GPT-3.5 (which is the only available model with a free account). The standard free version can generate human-like responses, but not to the degree of GPT-4. The premium version can respond to emotions in the given text and even generate answers in different dialects.
GPT-4 can collate information from different sources and combine them to give detailed responses. The premium system can also cite sources for the generated text. Users can also use GPT-4 to solve complex mathematical and scientific problems far beyond the capabilities of GPT-3.5.
Faster response time
ChatGPT Plus gives much quicker responses than the standard model. You'll have priority access over users with the free version. The speed is around two and a half times faster, so you can receive the responses faster than you can read them.
Greater accuracy
ChatGPT Plus has better training and knowledge, which means it provides more accurate responses. The system makes fewer factual mistakes than the free version, although you shouldn't blindly trust the system. It's a good idea to double-check any information you're given through the chat.
Access to new features
OpenAI often gives ChatGPT new features, but subscribers to ChatGPT Plus get early access to them. Some added features include suggested replies, keyboard shortcuts, and prompt examples. ChatGPT Plus users have access to GPT-3.5 and GPT-4, whereas users of the free version only have access to GPT-3.5.
Expand ChatGPT through plugins
You can use plugins on the premium ChatGPT Plus to improve your experience and get better results. The free version of ChatGPT doesn't allow you to interact with external websites. So, while you can ask ChatGPT to generate a restaurant review or an email response, the chatbot won't leave a review on the restaurant's website or send an email. However, ChatGPT Plus allows you to add plugins to enhance your experience.
OpenAI's Plugin store provides users with nearly 600 plugin options that they can use on the OpenAI ChatGPT website. Plugins can't be used on the mobile app. You can use plugins to connect to third-party apps and complete tasks such as making travel arrangements, placing takeaway orders, and applying for a job.
Use Bing to Get Current Information
GPT-4 allows ChatGPT Plus users to access information from Microsoft Bing. The free version of ChatGPT doesn't always have access to the latest information. The system was still using information from September 2021 in mid-2023. As such, if you asked the GPT-3.5 model a question about the latest smartphones, it wouldn't be able to reference smartphones released after September 2021.
By using ChatGPT Plus, users can ask the system a question surrounding current events and get an accurate answer. The system searches Bing for relevant information and uses it to give an up-to-date answer.
How to subscribe to ChatGPT Plus?
You can subscribe to ChatGPT Plus if you have already set up a standard ChatGPT account. It's easy to upgrade to a premium account by following the steps below:
Create a ChatGPT account
First, you need to visit the OpenAI ChatGPT website and create a free account. You can do this by visiting the homepage and selecting 'Sign Up'. If you already have an OpenAI account, you can go straight to 'Log in'. 
To create your ChatGPT account, you'll need to provide your email address. You'll then be prompted to create a password (which must contain at least eight characters). You can also choose to sign up through your Google or Microsoft account.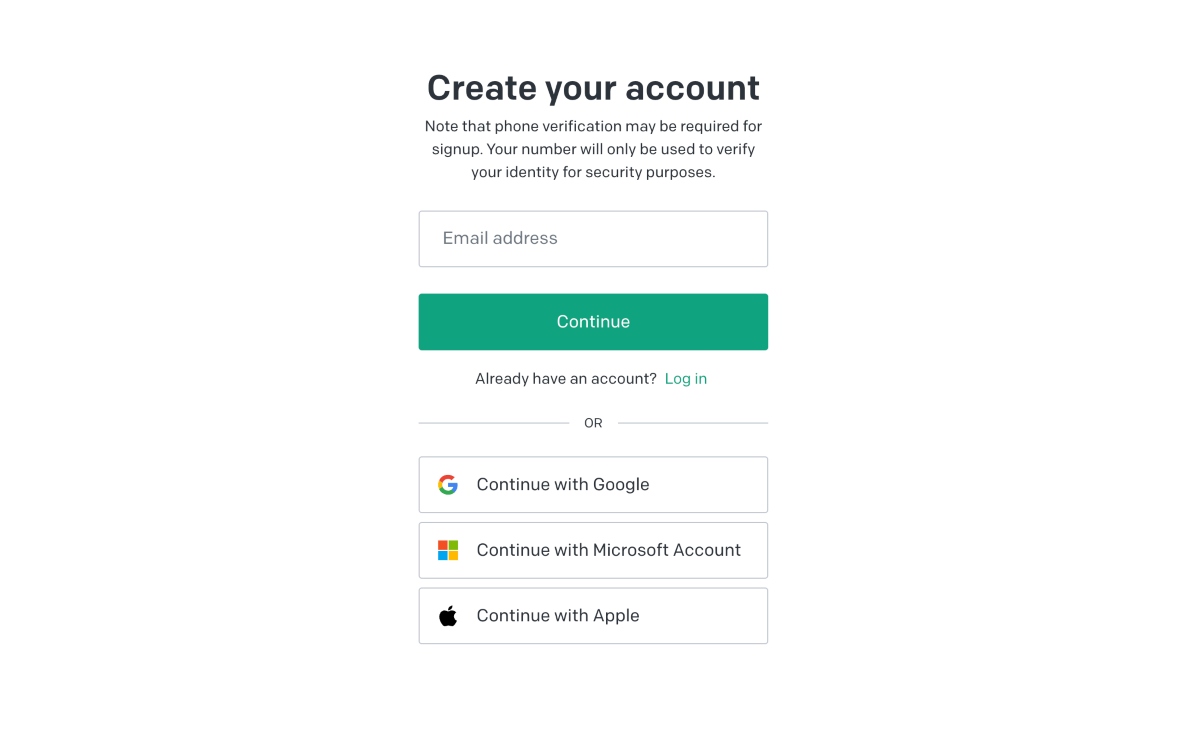 Next, you'll be asked to verify your email address. An email with a link will be sent to the email address you provided. You need to click on the link before you can continue setting up your account.
Once you've verified your email address, you'll be asked to provide your mobile number. A verification code will be sent to your phone. You need to type this code into the indicated boxes to complete the sign-up process. You're unable to sign up for a standard ChatPT account or a ChatGPT Plus account without providing a phone number.
Upgrade plan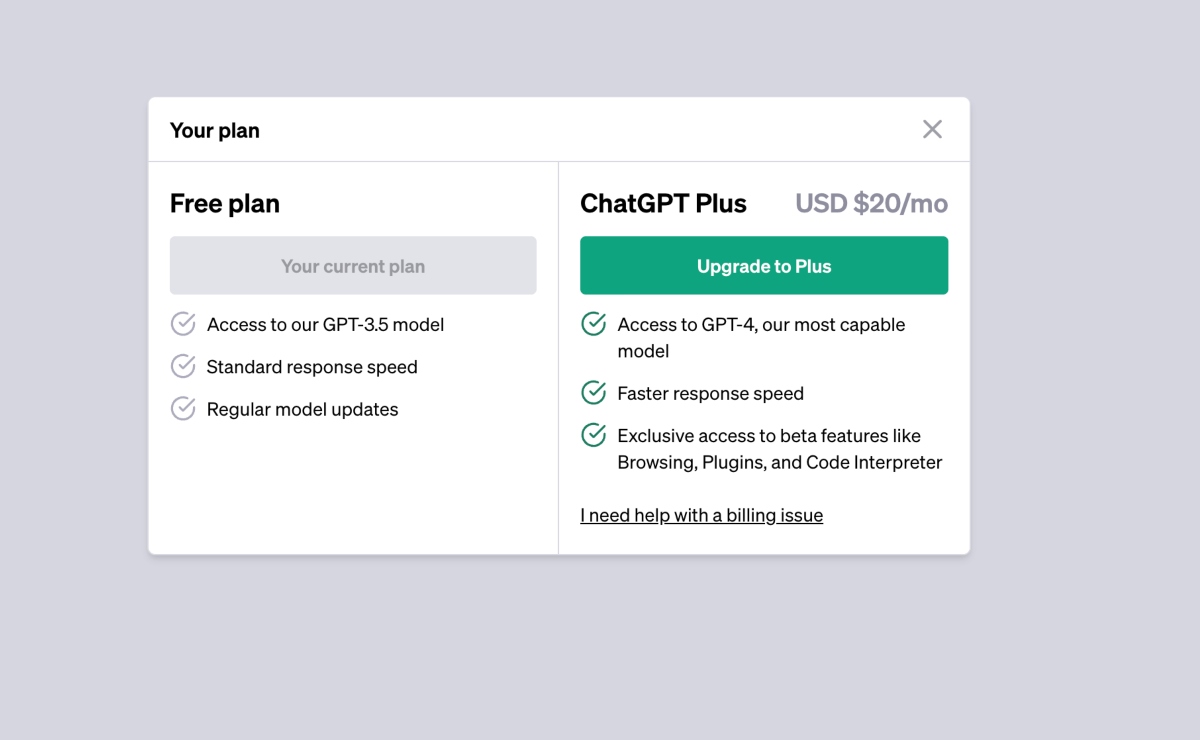 Once you're logged into your account, you will have instant access to the GPT-3.5 model and its standard features. You can choose to upgrade your account to ChatGPT Plus from the homepage. Doing so will give you access to GPT-4, the latest and most advanced model. You will also have access to faster response speeds and beta features, such as plugins and browsing.
Provide payment details
Once you've chosen to upgrade your account, you'll be asked to provide card details for your chosen payment method. You'll need to provide your card information and your billing address. Paypal can't be used to pay for subscriptions on ChatGPT. However, you can choose to pay via credit, debit, or prepaid card.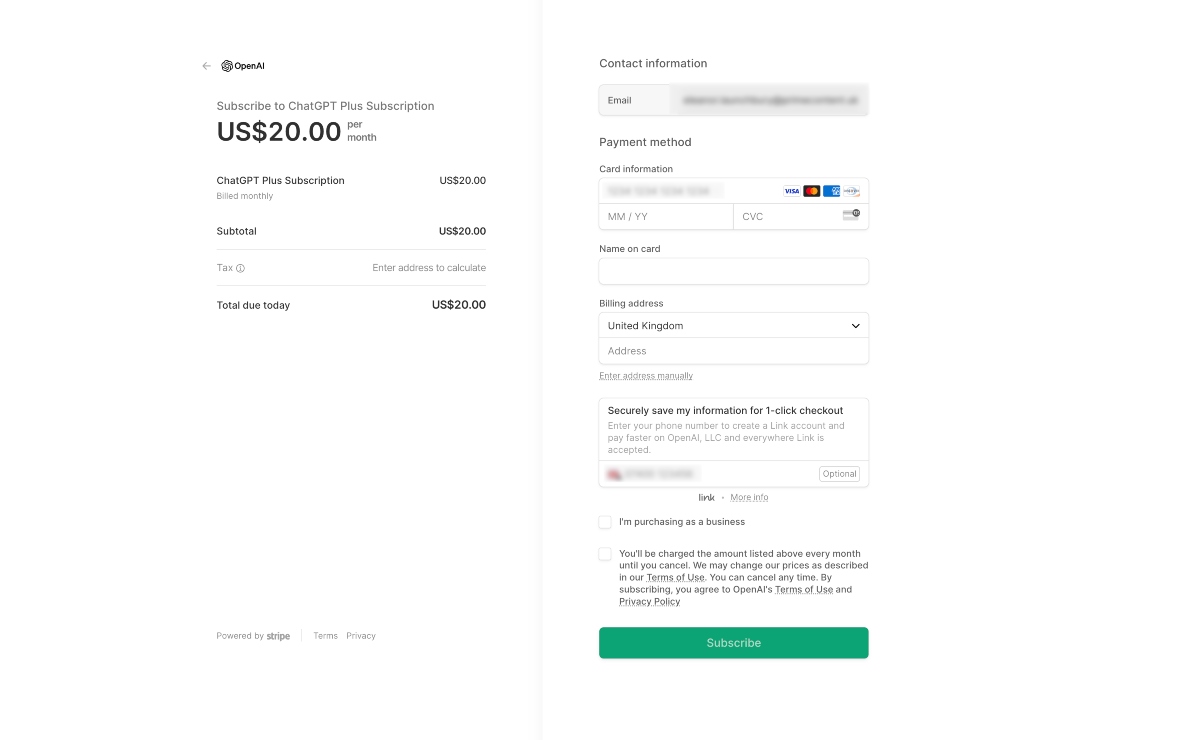 The following payment methods are accepted by ChatGPT:
Mastercard

Visa

American Express

Discover

Diners Club
Manage your subscription with a prepaid card
At Getbsy, you can sign up for a prepaid card for your ChatGPT Plus subscription.
It's a great option if you don't have access to a credit or debit card but want to make online payments. You might also want to use a prepaid card to protect your bank details from any data breaches in the beta system.
You can fill out the payment details as requested with the prepaid card information, and the monthly subscription will be deducted from your card. You need to make sure the billing address you submit matches the billing address for your prepaid cards. Otherwise, the payment may not be taken.
It's important to remember that your subscription will only renew if payment is successfully taken. Your subscription won't renew if you don't have sufficient funds on your prepaid card. You can also choose to cancel your subscription at any time. This can be done by visiting the ChatGPT website and selecting My Account > Manage My Subscription. 

Wellicht vind je deze blogs ook interessant: