Online shopping has become increasingly popular over the past decade. In 2020, 19% of the world's sales took place online, with the top 13 online businesses selling around €2.5 trillion worth of products in the same year.
Whilst there are many benefits to online shopping, such as convenience and choice, there are also downsides. The internet contains many fraudulent websites amongst legitimate sites, which can lead to financial problems. You could end up losing a lot of money if you fall foul of a scam, which is why you need to be on the lookout to make sure each online payment is secure.
Thankfully, there are a number of ways that you can verify if a website is legitimate and your payment details are protected. Companies, banks and money providers have all implemented verification methods to minimise the risk of scammers getting their hands on your money.
In this article, we will go through things that you should look out for on websites when spending money online. We'll look at the authentication methods that are used to ensure safe online payment security, as well as the alternatives to traditional credit and debit card payments.
How do I make sure my online payment is secure?
The simplest way to check if your online payment is secure is to look at the security features of the website. You should take a few moments to read the website's privacy notice, which should state how the company stores your personal information, including your bank or credit card details.
You should also make sure that your computer or smart device is fully up to date before using a payment card online. Internet criminals can find vulnerabilities in your device's software if it hasn't been updated. Fortunately, modern devices will notify you when they are due a software update.
It's not recommended that you make payments when you are using public Wi-Fi. This is because the network isn't secured and you could leave your bank details vulnerable to hackers. However, if you have to use public Wi-Fi, you would be better protected online if you use a VPN as it reduces the risk of someone tracking your online activity and getting hold of your passwords or personal details.
Continue reading to find out how identity verification methods can help secure online shopping payments, as well as ways that you can tell if a website is secure or not.
How are customer identities verified for online payments?
A recent regulation called the Strong Customer Authentication (SCA) was introduced into Europe in September 2019. It means that payments need to be authorised by at least two verification methods of the following factors:
Something the customer knows, such as a password
Something the customer has access to, such as a secondary device
A physical attribute of the customer, such as a fingerprint
Companies are legally obliged to check your identity to ensure that you are authorised to be using your selected payment method. This deters scammers from using your debit or credit card to pay for things online as they will have to pass multiple security stages before they can make the purchase.
One of the secure authentication methods used by e-commerce companies is 3D secure, which stands for 'three domains'. These domains are the card issuer, the retailer that is receiving your payment and the 3DS infrastructure platform that verifies a secure online payment between the consumer and their payment to the retailer.
The 3DS technology is designed to perform checks to see whether you seem to be the rightful card owner. They will redirect you to a 3DS page where you will be asked to input a password or PIN which your bank will generate and send to you via SMS.
Another popular identification method is 2FA, which means two-factor authentication. During the checkout process, you will be prompted to supply a combination of information such as a username and password, verification through a paired device or a location check.
An increasingly popular identification method is biometric, which is used by Apple Pay and other payment forms. You can use physical factors such as your fingerprint, face or voice recognition to prove your identity before payment. This is often considered to be one of the safest authentification methods because it's not possible for your personal features to be hacked in the same way that a pin or password could be.
How can I tell if a website is secure?
It's a good idea to check the security of a website before you even get to the payment process. Legitimate websites will have a padlock symbol in the address bar, which means that your connection is secure. You can click on the padlock to bring up the site's valid SSL certificate, including the number of cookies that are being used and the notification settings.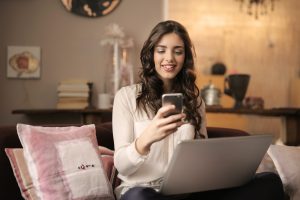 The website URL should also start with https:// Although this isn't complete proof that the website is safe, it does mean that the site is encrypted so that the data can't be stolen by hackers.
You should also check the domain name to make sure that you are using the correct website. Some scammers create a similar domain name to another site, such as Amaz0nshop.net to trick you into spending money on what you think is a legitimate website.
Another valuable resource to use if you want to verify the credibility of a website is online reviews. You can take a look at the company's social media accounts to see if people have had a good experience with the website. It's also worth visiting a review website to see the overall rating of a company and whether people have received what they have ordered. Trust Pilot is one of the most reliable sources for reviews, with nearly one million new business reviews added to the site each month.
You should install anti-virus software onto your device so that it can check the websites you visit. The software will be able to see whether the websites have any trackers or malware that could access your personal information or damage your computer.
What are the benefits of a virtual prepaid card for online payments?
A virtual prepaid card is a great alternative to a traditional debit or credit card for online payments. They aren't linked to your bank account or credit card which means that you will be protected in case a scammer tries to access your money. The transactions you make when using a virtual debit card won't show up on your bank statements either.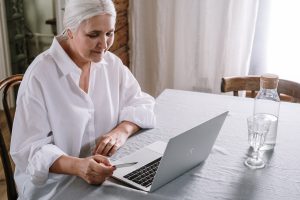 Our disposable virtual cards won't put you at risk of a data breach because the card is completely separate from your bank account. You can also connect the virtual Mastercard card with your Apple Pay or Google Pay to contactless pay for things in-store too.
Single-use debit cards are far safer than normal debit cards because they can only be used in one transaction. This means that it is impossible for a scammer to take your details to perform repeated transactions because it will exceed the single limit of the card.
The Virtual Mastercard card comes with a 16-digit card number, CVV and expiry date. You can use it anywhere in over 35.9 million merchants around the world. Our Virtual Black Card can be topped up with a maximum of € 500 per card and you can use up to five disposable cards per day. This means that you can make repeated online payments with a different virtual card each time, offering constant online protection against internet criminals.
Summary
There are a number of stages that you should follow before you pay for anything online. You need to make sure that the website is secure and legitimate by looking out for the padlock symbol in the address bar, a site address that begins with https://, as well as reading reviews about the site.
An easy way to give yourself extra protection when shopping online is to use virtual debit cards, rather than physical debit cards. This is because you won't be spending money directly from your bank account which prevents scammers from using your account details to hack into your bank account. Your Virtual Mastercard card isn't linked to your credit card or bank account which means that scammers won't be able to trace your money.
Online payments require at least two levels of authentication to verify that you have access to the funds you are spending. This could involve inputting a password, pin or biometric identification such as fingerprints or face recognition.
You should keep an eye out for the website's privacy notice to ensure that your data is protected and won't be shared. These security standards should reassure you that you are using a secure payment system and your personal information is encrypted.
FAQs
How can I spot a scam website?
It's important that you can contact the company if anything goes wrong with your order, which is why you should look out for a phone number, email address and postal address on the site.
Poor grammar and spelling on the website is also an indicator that the website shouldn't be trusted. Legitimate companies want to appear professional, which is why you should be wary of websites that haven't been checked over for mistakes.
You should also keep an eye out for the policies on the website, including returns and privacy. Another good indicator of a scam website is deals that seem too good to be true, such as items listed for far lower prices than they are on other websites.
What should I do if my online bank account is hacked?
You need to regularly check your bank statements to make sure that you recognise all of the transactions that are listed. Look out for suspicious deductions or companies that appear on your statements as they could be indicators that you have been hacked.
As soon as you suspect you have been a victim of fraud or a hacker, the first thing that you should do is contact your bank and freeze your accounts. This will stop any further withdrawals and it will notify your bank to be on the lookout for payment processing notifications. You should also change the pins and passwords of your accounts to try and regain control of your account.
Finally, you should file a report with the police. Whilst scammers and hackers are hard to trace, it's a good idea to notify the authorities so that they can keep an eye out for a pattern with similar cases.