Prepaid card to buy or recharge TikTok coins
Are you a TikToker looking to buy coins so you can send gifts to your favourite influencers? Or perhaps you're a TikTok creator wanting to purchase coins to promote your videos and boost your followers and likes? Purchase your coins today with a prepaid card from Getsby.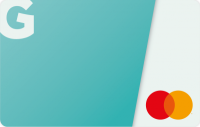 Virtual Green Card
Instant delivery
No credit check
Apple Pay & Google Pay
Card fee € 3.99
Top-up: 2.0% (min € 2)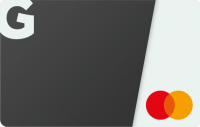 Virtual Black Card
Instant delivery
No credit check
Apple Pay & Google Pay
Card fee € 2.99 + 2.0%
5 cards per day
TikTok has taken the world by storm and flooded the internet with short videos full of dancing teenagers, funny sketches and cute animal videos. With videos ranging from five to 120 seconds and thousands of music options and editing features, there's an unlimited possibility for content creators.
As with many other social media apps, TikTok has added an in-app currency system that lets users convert real-world money into virtual funds. This currency system enables users to send money to their favourite creators and streamers as a show of support and gratitude or for creators to promote their posts. The coins shouldn't be mistaken for a cryptocurrency, however, as they can only be bought and spent within the TikTok app itself.
You may have decided to buy some TikTok coins yourself, but are unsure about the best way to purchase them. Whilst TikTok does offer several methods of buying coins, there are certain risks that come with spending real money on an app. Scammers and fraudsters will try their best to part you with your cash, which is why it's a good idea to take preventative methods to protect it.
Creating strong passwords and ignoring suspicious methods are just some of the ways that you can avoid falling victim to scammers. You can also choose a payment method that ensures your money is properly protected whilst still allowing you to have fun and spend money as you choose on the app.
Can I buy Tiktok coins without a credit or debit card?
Although you can purchase TikTok coins with a debit or credit card, you may be worried about making in-app purchases due to concerns about online security and privacy. Luckily, there are alternative payment methods to use when buying TikTok coins.
You can pay for your purchases using a prepaid card, which isn't linked to your bank account or credit card. This extra level of security ensures that your personal details are safe, even if your TikTok account is hacked. Prepaid cards also have a spending limit, which means that you can control how much money you spend on the app. You won't end up spending too much in the way of real-world money if you make a mistake with your purchase or if someone else gains control of your account.
You can link your prepaid card to Paypal, as well as a payment method such as Apple Pay or Google Pay to use on TikTok. It's possible to add up to three virtual gift cards to one Paypal account, although each card can only be linked to one Paypal account at a time. You can either link a disposable card, which allows for a single transaction, or a reusable card, which enables you to upload more funds in the future.
What is Tiktok?
The Tiktok app is an evolved version of Musical.ly, which encouraged users to lip-sync to music. Tiktok has evolved past this to allow app users to make 15-second videos with both original and featured sounds and song snippets. Dance, magic tricks and challenge videos are particularly prominent on the app, all of which can be edited to feature various special effects and filters.
In 2021, TikTok was the most downloaded app in the world. The app was downloaded 656 million times, which was around 111 million more downloads than Instagram, the second most downloaded app of that year. It is especially popular amongst teenagers, who can film and edit quick videos that can often gain hundreds or even thousands of views in a short space of time.
Much of the app's success can be linked to the celebrity endorsements it has received, particularly in the United States. Many celebrities encourage their fans to participate in fun challenges that can be posted under themed hashtags for easy viewing. Many TikTok users have also gained celebrity status through the use of the app, after earning millions of followers through the posting of their videos. A TikTok user can earn money through the app, which is a big incentive for many content creators.
What are TikTok coins?
TikTok coins are in-app currency, paid for by real-world money. The virtual currency allows users to send gifts to their favourite creators if they enjoyed watching their content and lets content creators boost their audience and drive traffic by promoting their videos.
The recipient of the gifts will earn a percentage of the coins, which they can then convert into 'diamonds'. After earning a set number of diamonds – usually around $100 worth – the users can convert them into real-world money which can be transferred into their verified PayPal account within a 15-day payment process period.
Diamonds cannot be purchased and they can't be spent within the app. Instead, they are a way for streamers to store their coins before they have enough to cash out.
What can I use TikTok coins for?
Followers
Users can purchase virtual gifts and send them to other users during their livestreams. It's used as a way for fans to show their admiration and appreciation to content creators for the videos that they have filmed and posted onto the app.
At the beginning of a livestream, users can buy digital emojis using coins from their TikTok wallet. The streamer will be able to see these images in the chat feature of the livestream, as will the other users. From this, users are able to reward their favourite creators and potentially gain recognition themselves with the possibility of shout-outs.
TikTok users are eligible to receive coins once they have surpassed 1,000 followers on the app. The virtual gifts can only be received during livestreams. There are a variety of different emojis that can be bought during the livestreams, each costing a different amount. For example, a panda emoji costs five coins, as do Italian Hands. However, other emojis can cost a lot more, with a Concert emoji costing 500 coins and a Drama Queen emoji available for 5,000 coins. Currently, there are eight available TikTok gifts that can be bought on the app.
Influencers, creators and businesses
Content creators and businesses can use TikTok coins to display selected posts as ads in order to reach new audiences or gain more followers. TikTok Promote allows you to choose one of three goal specific options depending on what your objective is.
More views: Boost the number of people who see and watch your videos

More website visits: Add your website URL and a call to action to guide more viewers to your website

More followers: Grow your following by increasing the size of your audience
Users can promote a video by tapping … on the right-hand side of a video and clicking Promote, or by navigating to the Promote page from either Creator Tools or Business Suite. 
Promoting a video also gives you lots of great insights into its performance, such as the number of views, likes, comments and shares, number of times a link has been clicked, and the age range and gender percentages of your viewers. 
How can I buy TikTok coins?
The only way for users to purchase TikTok coins is within the app itself. You can go to your profile and choose the menu to access the settings. This will allow you to access your balance, which shows previously purchased coins and the option to buy new ones, also known as recharging your TikTok wallet. All users must be aged 18 years or older to make purchases on the app.
The app lists various amounts of coins that you can buy, from 70 coins for £0.69/€ 0,85 to 17,500 coins for £174.99/€ 207,50. You can also choose the custom option, which allows you to choose a specific number of coins that you would like to buy.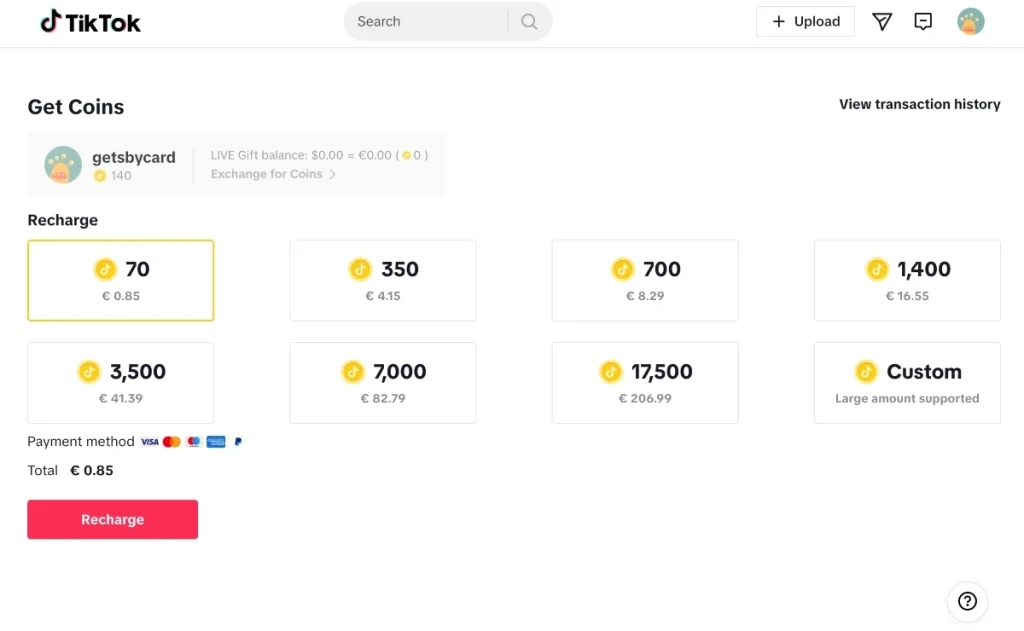 There are a variety of different ways to purchase coins on TikTok. These options include:
Smart communications billing
Credit or debit card
GCash
PayPal
After you've selected your chosen payment method and entered the payment details you just need to click the pay now button to purchase your chosen amount of TikTok coins.
If you are worried about linking your bank account to your TikTok account, you can opt to use a virtual card instead. It can be used in the place of a credit or debit card, or it can be linked directly to your PayPal account. They can also be linked to your Apple Pay and Google Pay accounts.
Prepaid cards mean that scammers can't collect personal data from users because they aren't directly linked to bank accounts or credit cards. This means that your details are safe if your account gets hacked or your phone is stolen, or there is a TikTok database breach. They also prevent fraud as they use a protective feature called 3D Secure by Mastercard.
3D Secure by Mastercard requires two-step authentication to check your identity before you are able to complete your purchase. The two-factor authentication will involve two pieces of information that are either something you know, something you have or something that proves who you are. This could mean that you have to enter a code that has been sent to your mobile device or you will be asked to provide your fingerprint or password.
You can either use disposable virtual cards to pay for your TikTok coin purchases or reusable cards. In the case of disposable cards, you can buy up to five new cards a day or up to 50 per month. Each card can be loaded with a minimum of €5.00 and a maximum of €500.00. Alternatively, you can buy one reusable prepaid card every three years, with a limit spend of €9,000 per day and €30,000 per month.

How much do TikTok coins cost?
TikTok adjusts the price of its coins based on inflation and other factors. Currently, coins on the app cost around £0.01 per coin. The cheapest standard option on the app is £0.69 for 70 coins, but users are able to select custom options too.
There is typically a period of 14 days for users to request returns. After this time, you are unable to request a refund. Recharge orders can only be refunded in full and take approximately seven business days for the money to be returned via the method that you originally paid. To submit a refund request, you must include your TikTok username and the transaction ID for the order that you would like refunded. You can access your transaction history through the settings on your profile.
Can I get free coins on TikTok?
There are various websites that may promise to give you free TikTok coins, but they aren't to be trusted. One of the most infamous websites is the TikTok Coin Club Generator, which claims to provide you with free coins after following a few simple steps. However, many of these TikTok coin generator systems ask you to input your account details, which leaves you vulnerable to hackers.
Your personal information could be stolen, including your credit or debit card details if you have linked them to the app. In the best-case scenario, you would lose access to your TikTok account, but in some situations, you could also end up losing a lot of money if the scammer is able to obtain your bank or credit card details.
TikTok has a number of systems in place to moderate the platform, which can lead to suspicious accounts being suspended or even deleted. This has helped to shut down scammers, but it's worth being wary of any websites that promise to give you free coins in exchange for personal details or by following a link.
The only way to legitimately get coins for your TikTok account is to make in-app purchases using real-world money. You cannot earn the coins using any other method, especially through the use of supposed coin generators.
Summary
TikTok coins are a fun way to support content creators on the app. You can only purchase and spend them on TikTok itself, although they can be earned as diamonds and transformed into real money by the creators who have received the virtual gifts.
The coins can cost anywhere from £0.69 for 70 coins up to £174.99 for 17,500 coins. The custom option on the app also allows you to choose how many coins you would like to buy, including much larger amounts. TikTok restricts certain users from buying the coins, including those under the age of 18 years old.
You can buy the coins via several methods, including debit and credit cards, PayPal, Google Pay and Apple Pay. Alternatively, you can link a prepaid card to these systems if you are worried about connecting your bank or credit card details to the app.
Wellicht vind je deze blogs ook interessant: