With the world advancing towards a cashless society, digital transactions are becoming more and more commonplace. Despite efforts to streamline the payment process for travel in London, there remains some confusion. Travelers visiting London are often bemused to find some services, such as buses do not accept cash.
Both Oyster card and contactless cards have emerged as the dominant payment methods for travel in London. The days of standing and waiting for a ticket machine to print a paper ticket are all but over in the capital. Plastic or virtual wallets now lead the way, which allows travelers and commuters to save money with discounted travel.
However, there is further confusion amongst Oyster cards and contactless payment cards. It is often harder to find out which payment card is cheaper and which is more user-friendly. This article will guide you through the confusion, to show what is the best payment card for you.
What is an Oyster card?
An Oyster card is a contactless payment card that you can add digital money to, or 'top up'. Travelers in the capital can also use the TFL Oyster and contactless app, and those with Apple or Android smartphones can top up using their phones.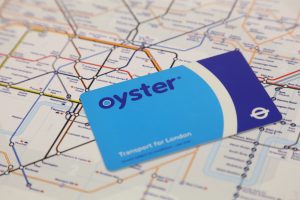 As it was launched as early as 2003 the Oyster card has now become the most familiar way for Londoners to pay for travel. Oyster card users can load money onto the card for pay as you go travel in London. The Oyster card is also not limited to one mode of travel. Oyster cards can be used to travel via:
Bus

Tube

Tram

DLR

London Overground

Most TfL Rail

Most National Rail services (in London)

Emirates Air Line

Thames Clippers River Bus services
Oyster cards have the added benefit of adding travel cards and discounts, which is why it is often the cheapest way to travel. For example; students, apprentices, children, over 60s, veterans, and more receive a discount or free travel. These discounts can be added to an Oyster card giving cheaper or free unlimited travel in London.
How do I use an Oyster card?
Oyster cards are contactless payment cards and can be used by tapping the yellow card readers at the beginning, and end of a journey.
Oyster cards can be purchased at various places and cost £5. This includes:
Online

Many newsagents in London

All London underground and overground stations

Most TfL Rail stations

Some DLR stations

Visitor centers

At the Tramlink Shop in Croydon
The cost of the Oyster card is refunded after 12 months if you have made at least one journey with the card. You also need to create an online contactless and Oyster account. This allows a user to; check credit and top up, apply discounts, track journey history, apply for refunds or replacements, and pay unpaid fares. If an Oyster card is not registered and becomes lost the pay-as-you-go credit will not be recoverable.
Oyster cards also have capped fares meaning there is a daily cap and weekly cap on how much you have to pay. You can make unlimited journeys using the Oyster card and how much you pay will be limited by this cap. Auto top-up can also be applied, meaning when your top-up balance drops below a certain amount an automatic top-up payment is made by your bank.
Paper Ticket vs Oyster card
Although Oyster cards can be loaded with travel card discounts, many still prefer using a paper ticket. For example, day visitors may buy a one-day travel card without having to register or, pay the £5 charge for a card. It may be more efficient to buy this style of ticket rather than Oyster pay, for those that are visiting for the day. However, paper tickets are more easily damaged than cards and are not valid for riverboat services.
It also seems like paper tickets are being phased out and discouraged. For example, you cannot buy a paper travel card for longer than one day. Seven days and longer travel passes are only available on Oystercard.
For one-day visits, or if you travel rarely in London, it may be more convenient to buy a physical ticket. However, if you do this longer than a day a multitude of discounts can be missed. Not to mention, there is no telling when this way of travelling will be eliminated.
What about a Visitor Oyster card?
When visiting London you may like to budget in advance by buying a Visitor Oyster card. This means that a traveller to London can order online, and have a prepaid card delivered to their door, for pay as you go public transport in London.
A contactless visitor Oyster card is excellent for pay as you go travel as fares are capped. This means this may cost less than a physical ticket. However, a standard contactless card will offer the same benefits.
However, the visitor Oyster card is perhaps best used by tourists from foreign countries. This will eliminate any potential issues when they try using their debit card, or credit card abroad (in London). That said, problems can often be ignored by telling your card issuer about your trip.
Oyster card vs contactless payment card
Oyster card is not the only contactless payment card that can be used on London transport. Any contactless payment card such as a debit card, credit card, or prepaid virtual card can be used to perform a contactless payment.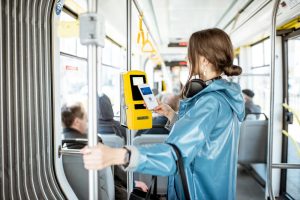 The contactless payment is performed exactly the same way as with an Oyster card. Just tap the yellow card reader using a contactless card at the start and end of your journey. Much like Oyster cards, contactless cards also have a daily cap and monthly cap for travel fees.
Also, contactless cards have an edge over Oyster cards as they do not need to be topped up. Just tap your contactless payment card on the contactless payment symbol, and be on your way. Contactless cards also include mobile phone and device-based contactless transactions such as the Apple Watch, and Apple Pay. This means even if you lose your purse or wallet, and contactless card, you can still use your phone to keep you journeying onwards.
Are Oyster cards still necessary?
While Oyster cards helped phase out pay-as-you-go cash transactions, more people are now turning to contactless payment cards to pay for everyday items and travel. 2020 statistics showed that 83% of Britains now use contactless payment cards, which was a growth of 12%. The contactless payment symbol is now instantly recognizable as more, and more shops, and businesses, roll out contactless payment methods.
The Covid-19 pandemic further normalized contactless payment cards. Many people who would have stuck with traditional payments or physical Oyster cards before 2020 might now be persuaded to use contactless payment methods such as virtual wallets in a post-pandemic world. This is because there is less likelihood of germ and virus transmission when hand-to-hand transactions are not practiced.
Of course, an Oyster card is a contactless card, but users may find using the same card for travel and shopping easier. Why use a separate debit card, and Oyster card, when you can just use the same card for multiple purposes? It is much easier to manage one single bank account than a separate bank account, and Oyster card account. It is no longer clear that Oyster cards offer the cheapest fare, so any potential benefits are seemingly negated.
For people that like to manage their money using a pre-loaded Oyster card, this can also be countered. Many a card issuer now also offer a contactless card, that can be topped up and managed online.

Summary
The world is steadily moving towards a cashless society, with advancements in payment technology. In recent years many different payment methods have cropped up. Travel cards have been at the forefront of the drive for digital currency.
The Oyster card was a trailblazer in leading contactless travel in central London and beyond. However, just like they made buying tickets with cash redundant, they themselves are being phased out as more travellers turn to other contactless payment methods.
A more traditional card provider seemingly matches or betters any benefits. A contactless debit card, credit card, or prepaid contactless card can be used in all national rail stations, not just London. You also do not need to go through the hassle of registering a card with contactless payments.
Both payment methods now include capped fares, both daily and weekly. This means that either method can be a bit cheaper here, and there, but the differences are negligible. Paper tickets still exist but they continue to be discouraged. For example, you can only get a one-day paper travel card. This is in comparison to the Oyster card, which can hold weekly, monthly and annual travelcards.
A Visitor Oyster card may be best used for this purpose as it can be delivered to your home address before travelling. This means you can better plan your budget for travelling. Furthermore, a Visitor Oyster card eliminates the potential of a foreign card not working on public transport.
Contactless transactions mean a person can pay using wearable, and carryable devices if they happen to lose their cards. Moreover having one card for all transactions simplifies the buying process for customers.
For this reason, it seems Oyster card – the pioneer of cashless travel, is being overrun by its own revolution.