Subscribe to Midjourney without a credit or debit card
Updated: 31/10/2023
Virtual Mastercard card for Midjourney
Start creating beautiful AI generated images through Midjourney today. Go to your Discord account and subscribe to one of the four available options. Simply pay for your subscription with a Virtual Green Card from Getsby. This is a reloadable Mastercard card that you can link to your account for monthly or annual recurring payments.
Unfortunately, not everyone has a credit card and Midjourney currently does not offer alternative payment methods like PayPal. In such cases, our virtual Green Card from Mastercard is a secure and fast alternative payment solution.
Virtual Green Card
Easily pay for Midjourney subscriptions
Apply for the virtual Mastercard card without a credit check
Keep control over your spending and block/unblock the card whenever you want
When you spend €100, a tree 🌳 will be planted in Kenya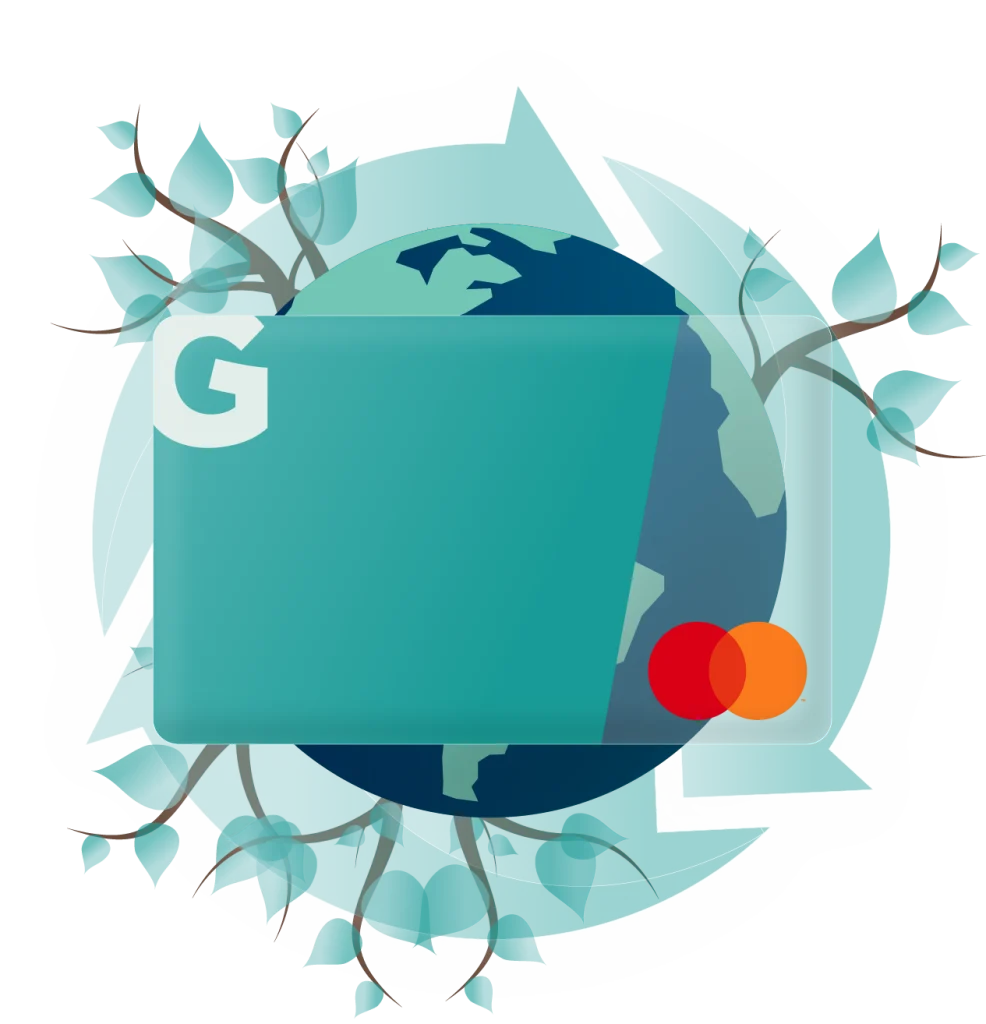 In recent years, more and more people have turned to artificial intelligence (AI) for content generation. Various programs on the market can create anything from poetry and songs to realistic photograph-style images.
Midjourney is one of the best AI art generators in the market. The subscription-based program allows you to create images based on whatever style and idea you like. Before you rush to create an account, read our guide on the Midjourney subscription tiers and how to pay for them.
Jump to:
▸ How to create a Midjourney account
▸ Midjourney subscription plans and cost
▸ Sign up for Midjourney with a prepaid card
What is Midjourney?
Midjourney is an artificial intelligence (AI) program that can generate images. The system creates images based on different art styles, genres, and artistic movements to fit your requests. You don't need any specialised software or hardware to use Midjourney as it works entirely through the Discord chat app.
The program was initially released in July 2022 and is currently in open beta. This means the system is still in the process of development and testing. However, Midjourney's co-founder, David Holz, said the program was already profitable in August 2022.
Continue reading to find out the benefits of Midjourney and the program's subscription plans. We'll also tell you the various ways you can pay for Midjourney and get the most out of your subscription.

You need to input a written prompt into Midjourney's program. For example, you might write 'Elvis Presley in the style of a Tim Burton character'. Within a few seconds, you'll be given several images that fit your prompt.
You'll be given four images to pick the best image from. After picking the image, you can choose to upscale it. Upscaling an image means increasing its size and smoothing and refining the details.
The system uses a Machine Learning (ML) algorithm to create original images. The algorithm has been trained with thousands of existing images. Midjourney uses these images to learn different styles and textures to create original work.
Midjourney uses Graphics Processing Units (GPUs)> to process each prompt. An average job on the Midjourney bot takes approximately one minute to generate an image. Upscaling an image can take longer, as can using non standard aspect ratios.
Midjourney, like other AI systems, doesn't always give perfect results. Most AI systems struggle with hands and other complicated objects. The background of the image can also be blurred or confusing. You can run the request again with slightly different wording if you don't like the generated images.
Benefits of Midjourney
Below are some of the many benefits of using Midjourney to create artwork and images.
Time-saving
Midjourney can create images in seconds, whereas traditional and digital can take hours, sometimes days. You can use the images as they are or refine them and add your personal touch.
High-quality images
The program is well-known for creating detailed, defined, and realistic images. With only a few words, you can command Midjourney to create anything you want, and you'll be given several quality images.
Diverse styles
Creating your own style is difficult, as is trying to learn a new style. With Midjourney, you can effortlessly swap between styles and explore different aesthetics. You can adjust prompts to explore different artistic themes and styles, which can help you compare similar images with differing aesthetics.
Overcome creative block
A creative block can be frustrating and demotivating. Midjourney overcomes this problem by giving you a fresh perspective. You don't have to use the exact image Midjourney generates for you; the image can just be used to ignite an idea and help you overcome your creative block. The image could also be a foundation to build on and edit with a personal touch.
Accessible
Midjourney can be used by anyone, even individuals with very limited artistic flair or technical knowledge. For a small fee, you can use Midjourney to create original artwork that fits your specified idea and style.
How to create a Midjourney account
You can access Midjourney through Discord in a web browser, mobile app, or desktop app. You'll need to have an existing Discord account or set one up before you can access Midjourney. Once you've created or verified your Discord account, you'll be prompted to choose a subscription plan.
Once you've chosen your subscription plan, you'll need to join the Midjourney Server to interact with the Midjourney Bot. You can do this by opening Discord and going to the server list. You'll need to select the '+' button and choose 'Join a Server' from the options. From here, you'll need to paste http://discord.gg/midjourney and click 'Join'.
Midjourney subscription plans and cost
There are four subscription tiers on Midjourney. Each of the subscription plans works solo in your direct messages and allows you to earn free GPU time if you rate generated images. You can also buy extra GPUs at £3.29 (€3.79). The costs listed below are approximate, as the original fees provided by Midjourney are given in US dollars.
Basic Plan
The Basic Plan is the cheapest subscription plan. It costs £8.21 (€9.49) per month or £78.86 (€85.37) annually. On this subscription, you can run three jobs simultaneously and have 10 jobs waiting in the queue. The fast GPU time is 3.3 hours per month.
Standard Plan
The next tier costs £24.64 (€27.51) per month or £236.58 (€273.19) annually. The Standard Plan gives you 15 hours of Fast GPU per month. As with the Basic Plan, you can run three jobs and queue ten jobs with this subscription.
This plan, the Pro Plan, and the Mega Plan also offer unlimited Relax GPU Time. Relax mode jobs don't cost GPU time, but they aren't guaranteed to be fast. The time it takes for Midjourney to generate your images from Relaxed jobs depends on how much you've used Relax GPU Time. If you only use Relax mode jobs occasionally, your wait will be shorter than those who use Relax GPU Time frequently. Generally, the wait for jobs in Relax mode is between zero and 10 minutes. Your priority will reset when your monthly subscription renews.
Pro Plan
For £49.29 (€56.91) per month or £473.16 (€546.37) per year, you can access 30 hours of Fast GPU per month. The Pro Plan also allows you to run 12 Fast jobs and three Relaxed jobs simultaneously while queueing ten jobs. This is great for large projects requiring a fast turnaround of multiple images.
Mega Plan
The Mega Plan offers the best Midjourney experience of the four tiers. It will set you back £98.57 (€113.83) per month or £946.31 (€1,092.75) for an annual subscription. You're given 60 hours of Fast GPU Time with the Mega Plan — double the amount given with the Pro Plan. However, you're given a maximum of 12 Fast jobs, three Relaxed jobs simultaneously, and 10 queued jobs, which is the same as the Pro Plan.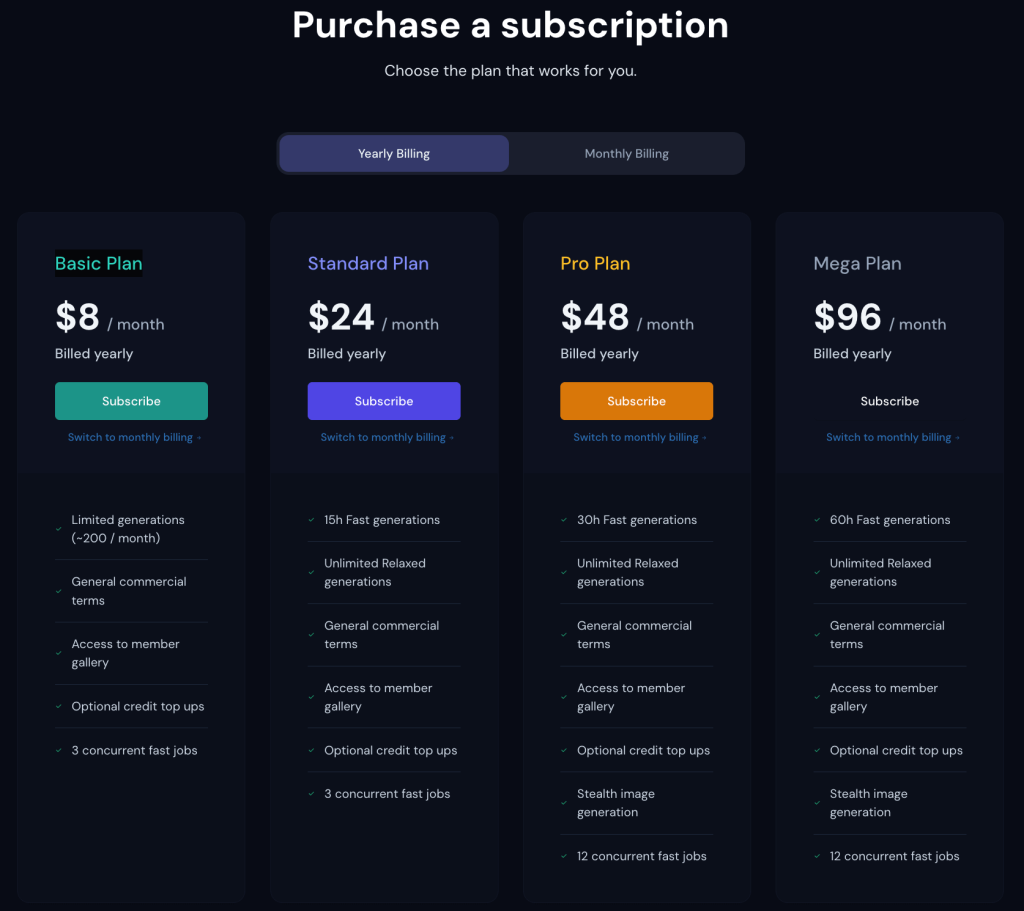 How to pay for Midjourney
Midjourney only accepts payment methods supported by Stripe. This includes:
Debit and credit cards (such as Mastercard, VISA, and American Express)
Prepaid cards
Google Pay
Apple Pay
Cash App Pay (in some regions)
Paypal and wire transfers aren't accepted.
You'll need to visit the subscription page on the Midjourney server to choose your plan. Once you've selected your chosen plan, you'll be prompted to enter your card details. Next, you can proceed to the checkout page by clicking 'subscribe'. Depending on your country and payment system, you might be asked to complete another verification step at this point.
You can confirm you've successfully bought a subscription by visiting the "Manage Subscription" page. This is also where you can upgrade or downgrade your subscription to the next tier.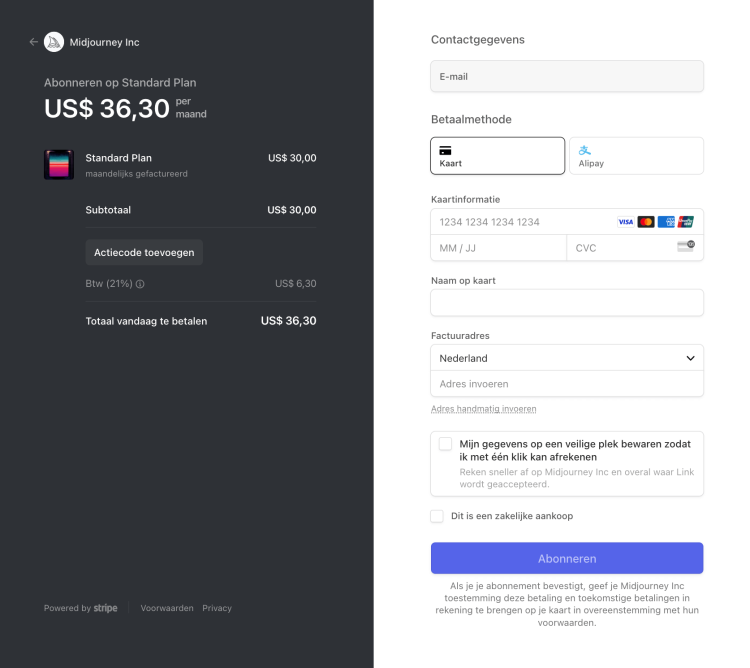 Sign up for Midjourney with a prepaid card
Signing up for Midjourney with a prepaid card is a great way to manage your subscription. You can only spend the amount on your card, so you can't accidentally get overcharged or be tempted to overspend.
Prepaid cards aren't directly linked to your bank account, so you don't have to worry about it getting compromised if your Midjourney account is hacked.
Getsby prepaid virtual cards can be added to your Google Pay or Apple Pay account. You can then pay for your Midjourney subscription through one of these digital wallets. Alternatively, you can input the prepaid card details at the checkout as you would a credit or debit card.
You can cancel your subscription at any time, although you'll have to wait until the end of the billing cycle for your subscription to end. Linking a prepaid card to your subscription is a good way to ensure you're not accidentally charged again after you cancel. There's no way for your prepaid card to be charged if it has insufficient funds. Your subscription will automatically be cancelled before the beginning of the new billing cycle if your card isn't successfully charged.