Millions of shoppers are now choosing to use Buy Now, Pay Later (BNPL) services from firms like Klarna, Clearpay and Laybuy to buy products online and in-store. In fact, according to research carried out by loan provider Creditspring, more people in the UK are borrowing from BNPL providers than taking out traditional debts like mortgages and bank loans.
Klarna and Clearpay are the two biggest players in the BNPL market. Klarna currently has around 16 million customers in the UK alone and works with more than 250,000 retailers, while Clearpay has around two million UK customers and 100,000 global retailers.
Recognising the increasing demand for this popular payment method, companies like PayPal and Monzo also now offer BNPL services. At the end of 2020, PayPal launched its 'Pay in 3' product, with Monzo becoming the first major bank to launch its own BNPL scheme, 'Flex', in September 2021.
Despite its popularity, though, there are many downsides to BNPL. Creditspring's research found that many users are unaware of the repercussions of failing to pay back the money, with a third of people unaware that BNPL is a form of borrowing and debt.
What is Buy Now, Pay Later?
Buy Now, Pay Later (BNPL) is a payment method whereby you pay for a product or service in instalments or in full at a later date, instead of at the till or online checkout.
BNPL providers pay the retailer on a customer's behalf — taking a cut from the profit rather than charging the customer interest or fees — and let you spread the cost of your shopping to help with your cash flow by allowing you to pay them back over a certain period of time.
Read on to find out more about Buy Now, Pay Later schemes and how you can have better control over your finances by paying now and buying later.
What are the disadvantages of Buy Now, Pay Later?
Buy Now, Pay Later services are popular because — in most cases — they are free to use, as the providers don't charge interest or fees. However, some providers do charge late fees if you miss a repayment. This could mean you pay more for the item than its sale price and you could end up in financial difficulty if you overspend and can't afford to repay the money you owe.
Examples of late fees charged by some of the main providers
| | | |
| --- | --- | --- |
| BNPL provider | Fee charged for late or missed repayment | Number of times fee can be charged |
| Clearpay | £6 | Once for orders less than £24.  Continually for orders more than £24, capped at 25 per cent of the order's cost or £36 (whichever is less) |
| Laybuy | £6 | Twice per missed instalment, capped at a maximum late fee of £24 per purchase |
In addition to late fees, some of the other disadvantages to using BNPL are:
It can be misleading — BNPL schemes make items look cheaper by breaking down the full retail price into separate segments. But in actual fact, you could end up paying more for the items because of late fees.
It can negatively impact your credit score — With the BNPL sector growing rapidly, more providers (including Klarna and Laybuy) are actively reporting missed payments to credit bureaus. If you miss multiple repayments, your debt could be passed onto a debt collection agency, which would significantly damage your credit rating.
Section 75 consumer protection doesn't apply to BNPL — Credit card providers are required by Section 75 laws to protect purchases over £100 for free. This means that if your goods are faulty or haven't been delivered, you could get your money back. However, this law doesn't apply to BNPL.
Some BNPL providers charge interest — Depending on your provider, you may be charged interest, meaning the item will end up costing you more than the advertised price.
Using BNPL doesn't help your credit score — When you use BNPL a soft credit check is more likely than a hard one, meaning it won't appear on your credit file, which could affect your ability to borrow in the future, as lenders can't make a full assessment of your debts.
Younger people are more vulnerable — BNPL services are often found on fashion websites that are used by younger people who don't have as much financial experience and can therefore get into more trouble.
Your circumstances could change — If you lost your job, you would still be expected to make the repayments, whether you could afford to do so or not.
Before you use a BNPL service, it's worth asking yourself whether you really need the item and if you would buy it if it wasn't offered to you in this way.
What happens if you don't pay a loan back?
Depending on the type of BNPL contract you're on, if you miss payments, your provider will charge a late payment fee of around £6, or interest, which is usually between 19.9 and 34.9 per cent — but note that you can sometimes be charged both. While credit card fees and interest are notoriously high (around £12 for late payments and interest rates usually between 18 and 20 per cent), BNPL charges can be much higher, meaning your debts could really start to mount up and you may find yourself in a difficult financial situation.
As mentioned in the previous section, missing a payment could also affect your credit report and prevent you from being approved for credit in the future. It is possible to build your credit score back up again, but this can take years, so it's best to avoid doing anything that could negatively impact it.
If you are struggling, it's always best to contact your lender as they may be able to come up with a more affordable repayment plan for you. If you don't contact your BNPL provider, they will usually follow the below course of action:
Call or send a letter, asking you to get in contact.
Issue you with a written 'default notice' and give you the opportunity to catch up with your missed payments.
If you fail to repay the debt, the loan will 'default' — usually after two to three missed payments.
Charges will usually be added to the 'defaulted' loan, meaning the amount you owe increases.
A County Court Judgement (CCJ) (or 'decree', in Scotland) will be made against you if you still haven't responded. This can seriously damage your chances of getting credit from future lenders.
Sell your debt to a debt collection agency.
Apply for a warrant of control, which allows them to send enforcement agents (or bailiffs) to take your goods and sell them to pay off your debt.
What's the alternative to Buy Now, Pay Later?
The best alternative to Buy Now, Pay Later is Pay Now, Buy Later. This is where you load money onto a prepaid card every week or month until you have enough saved up to pay for the item you desire outright.
If you need help with setting aside the money you need for your purchase, you may find the below tips useful: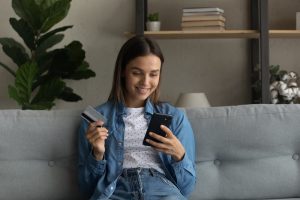 Draw up a budget — When budgeting, the first thing you should do is make a list of all your expenses, such as your rent or mortgage, utility bills, household bills and vehicle running costs. Then, add up the total cost of your expenses and deduct this figure from your paycheck. Out of the money left over, decide on an amount you can afford to save each month, once you've taken into account everyday spending on things like entertainment and exercise classes.
Set up a direct debit — Consider setting up a direct debit from your bank account to your prepaid card on the day you get paid, so you don't even think about the money you're saving.
Think twice about what you're spending — Rather than buying something out of habit, ask yourself whether you really need it. If not, the money you would have spent on this item can be loaded onto your prepaid card.
What are the advantages of Pay Now, Buy Later?
Saving money to spend, as opposed to borrowing money you don't have, is by far the best way to ensure you don't end up in financial difficulties.
Some of the advantages of Pay Now, Buy later are:
Your credit rating won't be affected
You won't incur charges like fees or interest, meaning the sale price is all you pay
There's no pressure about having to pay the money back by a certain time
You'll adopt good saving habits